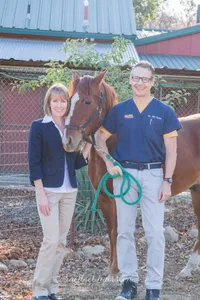 We Promise to Provide: Compassionate, Expert, Well-Communicated, and Affordable Veterinary Care


A Few of Our Differences: "Are these things Important to you?"


Local, convenient, accessible: Open 6 days per week;
Separate cat reception, boarding suite, and exam room;
State of the Art Medical Technologies and the Expertise to use them: Class IV Laser Therapy, CO2 Laser Surgery, Digital Dental X-ray/Dental Suite, Pet Physical Therapy & Rehabilitation, Underwater Treadmill, Extracorporeal Shockwave Therapy, Digital Ultrasound, PRP (Platelet-Rich Plasma) Therapy, Cryotherapy, Digital Thermal Imaging, Stance Analyzer plus everything else (Digital X-Ray, ICU, Bear Hugger, Tonopen, Capnographs, etc...);
Nutrition, Dentistry, Multi-Modal Pain Management/Rehabilitation, and Behavior Services;
House Calls when needed;
Pet Boarding Center: Clean, safe, comfortable, climate controlled indoor/outdoor, enriching environment. Walks on 5 acre property. Separate Cat Boarding Suite with open play area;
3 Doctors to choose from (39 years of experience including additional advanced training) plus an Orthopedic Surgeon;
Supporting Our Community for 25 years: Rotary, BSA, CCI, Catholic Church, Local Schools, Lake County Rodeo, Donations, Tours, Lectures, Rainbow Wag Articles, Orphandog;
New, clean, modern, medically advanced Hospital;
Payment Plans to make veterinary care affordable;
On-Call Emergency Care until 9:00 pm for current clients;
Experienced and knowledgeable in Small Animals & Large Animal Medicine. Horse Hospital on premises;
A Reception Staff or after hours answering service that answers your call so you can talk to a live person.

Middletown Animal Hospital operates an open hospital. This means that our team welcomes owners to be with their animals during any medical procedure, whether a simple vaccination or a complex surgery. We offer tours and walk throughs of our facility whenever we possible can. Let Us Show You…Our Hospital, Our Team at Work, and Our Quality of Care!

Come See for Yourself!!!