RECEPTION AREA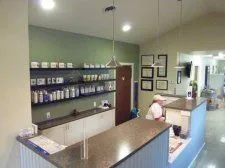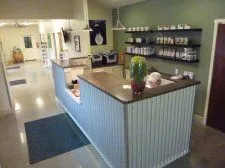 The reception desk separates the dog and cat waiting areas. The reception area has all of our prescription monthly parasite control products as well as over the counter products that are highly effective and recommended by our Veterinarians.
Opposite the reception desk is a retail area with healthy treats, oral cleansing products, shampoos, supplements, odor neutralizing spray, Proviable (probiotic to help form healthy bacterial in the intestine), etc.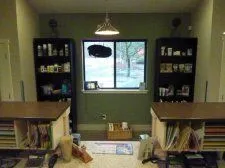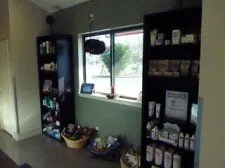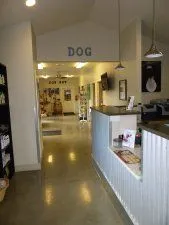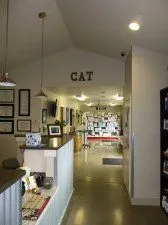 The dog waiting area is located to the left of the reception desk with its own entrance. Connected to this area is a room that contains our high quality dog food including veterinary prescription diets as well as our Rehabilitation Room. The cat waiting area is located to the right of the reception desk and has a separate entrance from dogs in an effort to help cats feel more comfortable with their visit to the veterinarian.
DOG WAITING AREA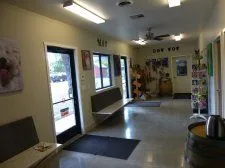 The dog waiting area has a coffee/tea station, a wide screen TV, and Avanti greeting cards along with plenty of built in benches. There are 3 dog exam rooms, one dedicated to laser therapy. This area also has a retail area with leashes, Halti collars, toys, hyperallergenic treats, Pill Pockets, and chew bones.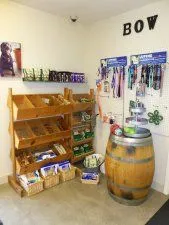 CAT WAITING AREA
The separate cat waiting area has hypoallergenic cat treats, pill pockets, laser toys and cat wands for exercise. There is a cat only exam room as well as a window looking into the cat boarding area. Adoptions kittens are displayed in our cat condo while they wait for a home. Quality cat food including veterinary prescription diets are located in the cat waiting area.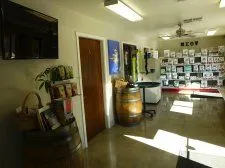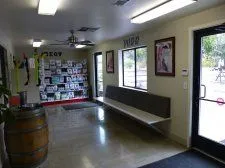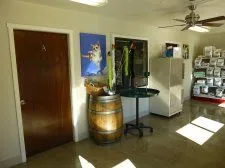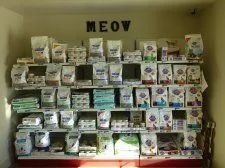 The cat reception area has cat treats, pill pockets, laser toys and cat wants for exercise. Cats have special needs and are difficult to transport to the vet clinic. We recognize this and assist clients by having a separate cat entrance and quiet area for cats. We understand that your cat can be stressed by a veterinary visit and we will do everything possible to separate him from dogs and make him comfortable.
---
CAT EXAM ROOM
There is one exam room dedicated only to cats with a Feliway Diffuser to assist in calming them. It really works! Our staff uses special techniques to make cats feel less stressed during their visits.
DOG EXAM ROOMS:
EXAM #1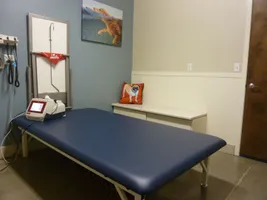 Exam Room 1 is our exam room for large dogs and also the Laser Therapy Room. Laser therapy is the use of specific wavelengths of light to penetrate tissues and stimulate cellular activity. It increases blood flow, reduces inflammation, and reduces paid while speeding healing of chronic conditions or wounds. Laser therapy is used in conjunction with non-steroidal anti-inflamatory drugs to provide less pain for animals with chronic arthritis. It is also used after surgery to decrease pain and inflamation and increase healing.
EXAM #2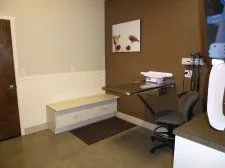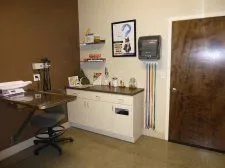 EXAM #3 - RADIOLOGY VIEWING ROOM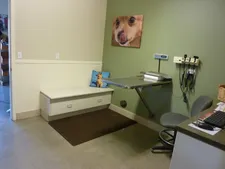 Exam Room #3 is our Orthopedic room where we show clients x-rays on a large flat screen TV.
REHABILITATION ROOM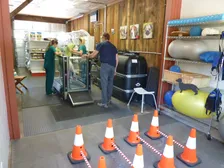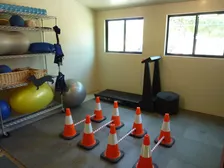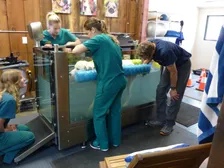 The Rehab Room is designed to be a safe and encouraging space for our animal patients. It houses the state of the art underwater treadmill, dry treadmill, balance balls, caveletties, and stairs used for treatment sessions. Our goal is to make therapy seem like "playtime". We use lots of treats, toys, and positive reinforcement to give pets the confidence they need to recover. Owners can even help participate in the therapy!
COMFORT ROOM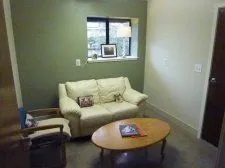 Our Comfort Room is a special quiet room with a couch, chair and coffee table to make clients and their beloved pets feel like they are at home. Euthanasia is a difficult decision and clients are able to spend as much time as they want with their pet in the last stage of life.
---
TREATMENT AREA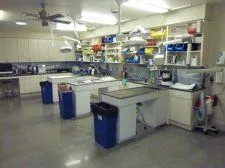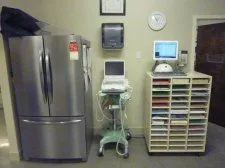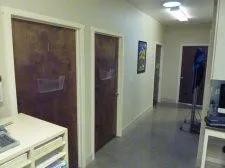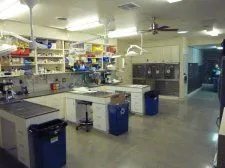 The treatment area has 2 wet tables and 1 exam table, each with surgery light and piped in oxygen outlets. This is where the doctors perform minor procedures such as a foxtail search or abscess repair. The ultrasound machine is used to search the abdominal cavity or assist in drawing urine. Injectable vaccines and drugs are kept in the treatment refrigerator along with lab samples waiting to be picked up for Idexx. Exam Rooms #1, 2, and 3 open onto the treatment area.
DENTAL SUITE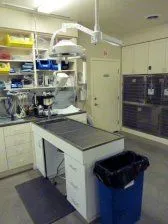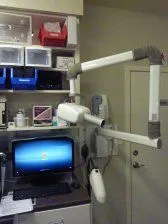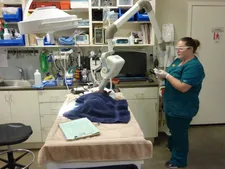 Our Dental Suite includes ultrasonic scaler, polisher, fluoride application, Oravet application, motorized burr and dental radiology. Just like your dentist, digital dental radiographs allow us to see below the gum line where most disease is. Two thirds of the tooth is below the gum line.
LABORATORY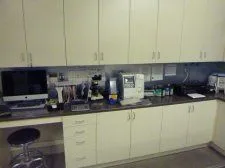 PHARMACY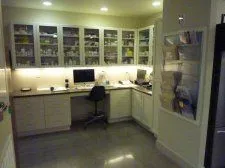 RADIOLOGY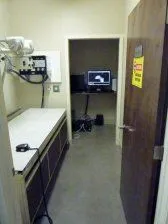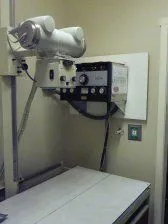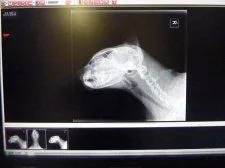 We offer digital radiology for quality and efficiency. X-rays taken can then be transferred to Exam Room #3 to show clients the image on a flat screen TV. Digital images are much more detailed and clearer than traditional x-rays. Images can be given to a client or referral hospital on a disc or by e-mail.
---
SURGERY SUITE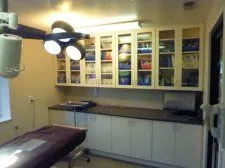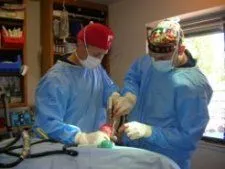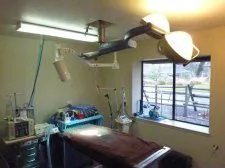 SURGERY PREP
The exam table outside the operating room is where patients are shaved/prepped for surgery.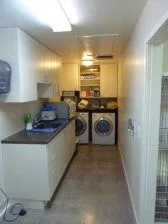 The area in back of the operating room is specifically for washing instruments and operating gowns from surgery.
ISOLATION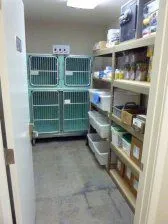 ---
STAFF BREAK ROOM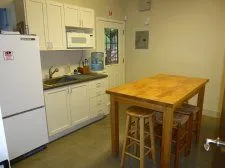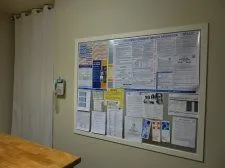 ---
MANAGER OFFICE DOCTOR DESKS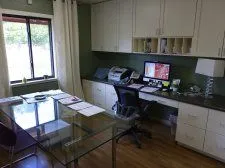 ---
2 PUBLIC ADA RESTROOMS STAFF RESTROOM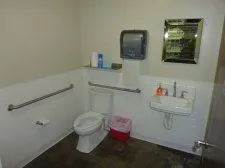 ---
OUTDOOR WET TABLE
The outdoor exam/wet table is used for messy or smelly procedures.
---
GROOM ROOM
There is an indoor and outdoor grooming table.
---
EXTERIOR EAST EXTERIOR NORTH
EXTERIOR WEST EXTERIOR SOUTH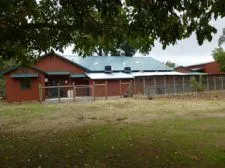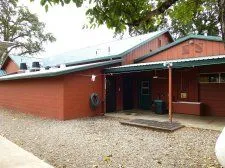 ---
SEE MORE OF OUR 5 ACRE FACILITY UNDER "EQUINE & LARGE ANIMAL" WHERE YOU WILL FIND OUR LARGE ANIMAL STALLS, STOCKS, AND ROUND PEN. UNDER "SERVICES" YOU WILL FIND PHOTOS OF OUR SEPARATE DOG AND CAT BOARDING CENTER.