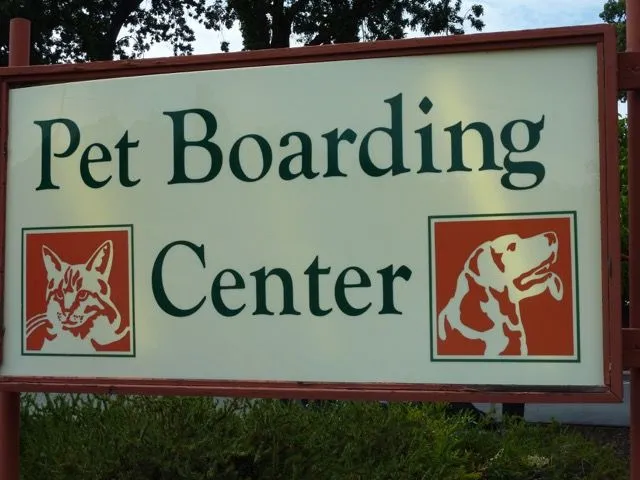 NIGHTLY BOARDING
Pets are like our children – we feed, nurture and lavish attention on them. Our highly qualified kennel attendants do the same when you can't be there. We provide tender loving care (such as brushing and cuddling), and supervised outdoor playtime to keep them happy and active. Our new facilities are clean, temperature controlled, and comfortable. Cats enjoy a quiet area separate from noisy dogs.

DAY CARE
Is your pet unhappy or lonely while you're at work? Give your companion the personal attention he or she deserves throughout the day. We offer the same TLC and playtime offered to our longer-term guests.
| | |
| --- | --- |
| Indoor Kennels | |
| | |
| Outdoor Kennels | |
| Dog Runs | |
| Cat Boarding | |
We are pleased to invite you to tour our Pet Boarding Center at Middletown Animal Hospital. Our modern, clean indoor boarding kennel has radiant heated floors and air conditioning. Dogs enjoy being outside during the daytime in the outdoor shaded kennel and walks twice daily on the 5 acre property. Cats have their own quiet suite where they can have play time on the cat tree and look out onto the waiting area. With plenty of natural light, your kitty will be happy playing with the squeaky rat toy and laser chase toy.
Guests receive:
Complimentary bath if staying 7 nights or more (No baths during Holiday stays)

Bedding and Kuranda cots. No need to bring a bed from home.

Pets staying 10 nights get the 11th night free.

High quality Science Diet food.

Fresh, clean water daily.

Pets from the same family sharing a kennel save 5%, when possible.
Rates & Services:



Per Night

Daycare

Dog 1-24 lb

$30.25

$

21.93

Dog 25-49 lb

$31.74

$21.93

Dog 50-100 lb

$34.08

$21.93

Dog 101 + lb

$37.03

$21.93

Cat

$23.76

$21.93

Exotic

$19.48




Avian

$26.21




Rodent

$15.57



***Medication Administration is $ 2.61 per dosing for boarding animals***
Additional Services:
Medical Boarding/Hospitalization is available so that you can relax if your pet needs medical attention or medications given while you are away. Includes administration of medications and boarding in our hospital ward with careful attention from Veterinary Technicians.
| | |
| --- | --- |
| Dog 1-24 lb | $40.17 |
| Dog 25-50 lb | $43.89 |
| Dog 51-100 lb | $45.75 |
| Dog 101 + lb | $50.60 |
| Cat | $40.17 |
TLC Boarding is available at an additional cost of $7.67 per day for pets needing extra attention. Your pet will receive longer walks several times a day, brushing daily if requested, extra treats, play time with kennel staff, and extra blankets.
Aggressive Animal Fee: For those animals that are difficult to handle or aggressive, the normal boarding rate will be doubled. We reserve the right to decline services to animals that put our staff in danger.
Immunization Requirements: To prevent transmission of disease and parasites at our facility, we request that all pets be up to date according to our protocols. Vaccines must have been given by a Veterinarian to be considered valid with copies of records provided if given by a veterinary hospital other than Middletown Animal Hospital. Boarding is for healthy animals only. All animals must have received an exam within 1 year by a veterinarian to determine health status. All animals will be given a Capstar pill upon arrival that will eliminate any adult fleas within 20 minutes. (Unless currently on Nexgard)
Dogs: Rabies, DA2PL, Bordetella, Heartworm Test, Monthly Parasite Prevention
Cats: Rabies, FVCRP, Felv, Felv/Fiv Test, Monthly Parasite Prevention
Taking a nap in the Kitty Suite!