Pet Dental Care...see the difference at Middletown Animal Hospital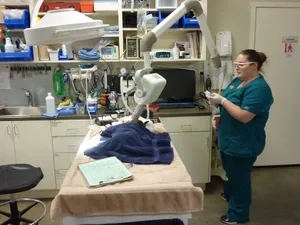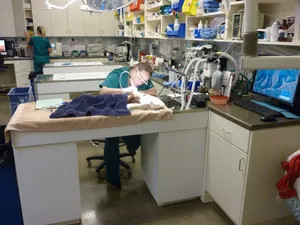 Dental care for pets is vital for the overall health and longevity of your companion animal. Cleaner teeth and fresher breath are the visible benefits of pet dental care. Not only does dental disease damage the teeth and gums, the even greater danger is in spreading more serious disease to the heart, kidneys, and upper respiratory system. Once spread, dental disease can shorten the life of your pet.
Protection is simple: regular dental care by an experienced veterinarian and a home maintenance program. Middletown Animal Hospital offers basic oral exams at every wellness visit to identify problems such as missing or broken teeth, inflammation, tumors, and the buildup of tartar and plaque. We assist pet owners in developing a plan for more extensive dental care as needed, such as professional cleaning under general anesthesia.
Treating Periodontal Disease
At the first sign of dental disease, we recommend a thorough exam and cleaning. Your pet receives a complete physical with lab work and diagnostic tests to determine the extent of the problem and identify any concerns impeding recovery. A complete dental cleaning is a medical procedure under anesthesia, so precautions are the same as in preparation for surgery.
During the procedure, your pet is given the safest anesthesia available. We monitor vital signs throughout, until the patient is alert and recovering. Diagnostic tools such as digital X-rays may be used to confirm diseases below the gum line. Digital dental X-rays show us the root structure and surrounding bone in great detail.
While anesthetized, the patient's teeth are ultrasonically scaled above and below the gum line. Then, the teeth are polished to remove scratches and rough spots, creating a smooth surface so plaque will not develop on the enamel quickly.
Our View on Non-Anesthetic Dentals
We do not recommend nonanesthetic dentals unless your pet has a disease that creates an increased anesthetic risk. Our reasons include:
Stress—Animals must hold still or be restrained for long periods of time, creating stress in your dog or cat.
Pain—Ultrasonic scaling underneath the gum line (subgingival cleaning) can be painful.
Lack of thoroughness—It is impossible to probe for deep pockets and get good quality X-rays while awake.
A Home Dental Care Regime
To maintain the teeth and gums between professional cleanings, we recommend a simple home dental care regime. Brushing your pet's teeth is easy to learn and a nice way for pets and their owners to spend quality time together.
Dental care should be incorporated into the home grooming routine and takes only minutes. The professional team at Middletown Animal Hospital is pleased to assist you in learning this simple technique.
For more help in this area, the WebMD Pet Health website offers a video demonstration in How To Brush Your Dog's Teeth and the comprehensive article Ten Steps to Cat Dental Health.
For more information on getting started, read the AAHA teeth brushing article.
---
Dental Suite Digital Dental Xray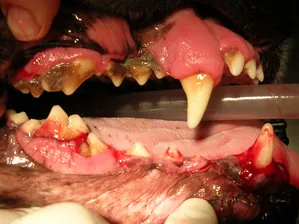 Before After