Dear Fellow Veterinarians,

In an effort to increase awareness for options you may wish to offer your clients we are pleased to announce that we offer specialty care in Pet Physical Therapy & Rehabilitation. Our goal is to support referring veterinarians by providing only rehabilitation care to referred clients, and by reporting all findings and recommendations to you. Middletown Animal Hospital has expanded our facility to offer multiple modalities for Pet Physical Therapy and Rehabilitation. We are the only veterinary hospital in Lake, Mendocino, Napa & Sonoma Counties to do so. Jeffrey Smith, DVM, CCRP trained extensively and was certified as a Rehabilitation Practitioner in 2014.

Physical Therapy & Rehabilitation benefit animals with the following conditions:

Post orthopedic surgery
Post neurologic surgery
Arthritis/osteoarthritis/geriatric animals
Non-operable orthopedic conditions (conditions in which surgery may be avoided or delayed, such as grade I-II MPL, early partial CCL rupture, hip dysplasia, elbow dysplasia, intravertebral disc disease)
Non-operable neurologic conditions (FCE)
Post amputation
Chronic, non-healing wounds
Chronic pain cases
Muscle wasting (Cushings disease, chemotherapy, etc.)
Canine athletes, sporting breed conditioning
Weight loss conditioning
What will rehabilitation therapy entail?

The first and most important part of rehab is establishment of a complete diagnosis. Often, animals with an obvious (or not so obvious) injury in one limb will develop compensatory changes in the rest of the body. A thorough orthopedic and neurologic examination will be performed and all musculoskeletal abnormalities documented and addressed. Examinations will be performed at regular intervals to assess the effects of therapy and changes in the body.

Based on the results of the examination and patient history, an individualized treatment plan will be developed for each patient. A home exercise plan will be a key component of each plan, and exercises will be demonstrated to owners during the initial consult.

If therapeutic modalities, hydrotherapy, or additional exercise therapy are recommended, patients will be scheduled for sessions throughout the week. Each patient will be given a ½ or full hour time slot (depending on the therapy) that will be dedicated toward his or her treatment. Sessions may be recommended up to 3 times/ week. Owners are encouraged to continue rehabilitation exercises at home with their pet.

Therapeutic modalities offered include:

Laser therapy
Swimming
Dry treadmill
Underwater treadmill
Stance Analyzer
Manual therapy (range of motion, joint mobilization, massage)
Extracorporeal Shockwave therapy*
PRP therapy (platelet rich plasma)
Cryotherapy
Physio Therapy
*Shockwave therapy requires heavy sedation.

Middletown Animal Hospital is proud to offer Underwater Treadmill as part of our Physical Therapy and Rehabilitation Services. An underwater treadmill has many uses in an exercise therapy program. There are numerous benefits to exercise in an underwater treadmill vs. "dry land". Foremost among these is the reduced impact on painful limbs or joints and the increased resistance underwater which allows the patient more time to react to changes in speed or footing and builds confidence. It is not unusual for patients immobilized by neurologic disease, arthritis or obesity to simulate walking movements underwater. Movement is key to recovery and weight loss and gives patients a tremendous confidence boost. This kind of exercise is also extremely effective at building core body strength and improving cardiovascular fitness.

lmprove range of motion and mobility​
Minimize weight on arthritic joints or during post-op recovery
Enhance cardiovascular function and performance
Accelerate return to function after injury
Provide stability and confidence while exercising
Intensify conditioning or boost weight loss
Provide additional options for pain management & non-surgical issues
Create fitness and weight-loss programs for patients
Offer a unique service not offered anywhere else in the area
---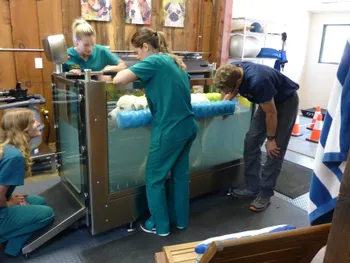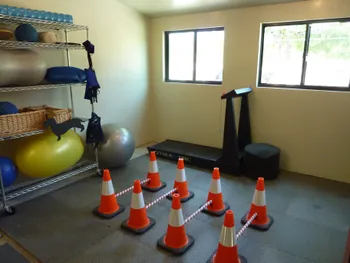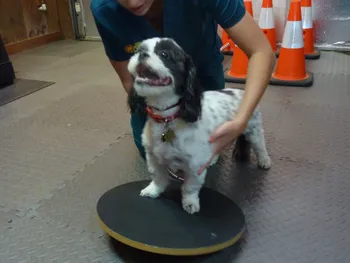 ​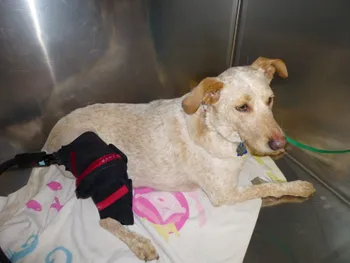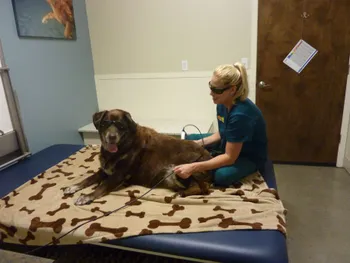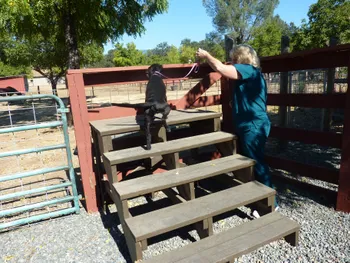 Here is an example of one of Rehabilitation Protocols after surgery:
Postoperative Physical Rehabilitation for Patients with TPLO Repair of Cruciate Injuries
Week 1—Until toe-touching
1. Provide pain management with NSAIDs +/- opioid +/-gabapentin +/-amantadine for the first 14 days minimum.
2. Apply an ice pack or Game Ready for 10 to 20 minutes 2-4X/day for the first 48 hours after surgery. Apply 2-3X/
day thereafter.
3. Perform passive range of motion exercise (PROM): 10-20 slow repetitions 3X/day (+/-60-80 to120-135 degrees).
4. Precede and follow the PROM with massage of the quadriceps/biceps muscles for 5 minutes.
5. Begin slow leash walks of less than 10 minutes 3X/day.
6. Provide Laser Therapy 3 to 5 X/week.
7. Begin a weight management (careful during healing) and nutriceutical program. Omega 3s, ASU, J/D, Metabolic.
Week 2 & 3—Early weight bearing
1. Do a follow-up exam 2-3 weeks after surgery to evaluate the range of motion, limb girth, and % weight bearing.
2. Continue post-op pain management.
3. Apply an ice pack or Game Ready to the stifle for 10 to 15 minutes 2-3X/day until the swelling has resolved.
4. Continue PROM exercises (Normal 35-160 degrees) and massage therapy.
5. Begin Proprioceptive and Balance exercises. Lift opposite leg. Shift weight back and forth manually. Caveletties.
6. Increase the slow leash walks to 10 to 15 minutes 3X/day or land TM or use UWTM for 2 minutes at 0.5 MPH.
7. Provide Laser Therapy 3X/week.
Week 4 & 5—Consistent weight bearing
1. Switch to Long Term Pain Management if indicated.
2. Apply an ice pack or Game Ready once per day for 20 minutes.
3. Continue PROM, massage and begin gentle static stretching (30 second hold).
4. Have the patient perform 10 repetitions of sit-stand exercises 3X/day.
5. Have the patient perform 10 to 15 repetitions of figure-of-eight walks 2-3X /day, circling to the right and left.
6. Have the patient sit against a wall for 10 to 15 repetitions 2-3X/day, keeping the affected knee next to the wall.
7. Increase Proprioceptive and Balance exercises. Balance Boards and Balls. Caveletties.
8. Increase the slow leash walks to 20 to 30 minutes 2-3X/day or land TM (incline) or use a UWTM at 1-2 MPH.
9. Consider initiating swimming exercises for 1-5 minutes 2X/day.
10. Provide Laser Therapy once per week.
11. Increase UWTM therapy up to 10 minutes 3X/week.
Week 6 through 8—Consistent weight bearing at a trot
1. Do a follow-up exam six weeks after surgery to evaluate range of motion, limb girth, and % weight bearing.
2. Continue Long Term Pain Management if indicated.
3. Provide PROM and Therapeutic Exercises as above or similar.
4. Take the patient on incline walks on hills or ramps or land TM for 5 to 10 minutes 1-2X/ day.
5. Have the patient go up a flight of stairs for 5 to 10 minutes slowly 2X/day.
6. Have the patient swim or UWTM for 10-15 minutes once per day.
7. Take the patient on leash walks for 20-30 minutes 3X/day, slow enough to ensure that the patient is weight bearing
on the affected limb, but with jogging for 5-10 minutes 2X/day or use a treadmill at 1-4 MPH.
8. Provide Laser Therapy once per week.
9. Increase UWTM therapy difficulty for 10-15 minutes 3X/week.
Weeks 9 through 12—Trotting at speed with minimal lameness
At this point, the patient's healing should be complete, and they should gradually return to full activity by the end
of 12 weeks. A follow-up radiograph should be obtained to confirm proper healing about 60 days post-op.
1. Continue weight control and pain management.
2. Continue Laser Therapy once per 2-4 weeks.
3. Take the dog on faster 30 to 40 minute walks once or twice a day or land TM or use a UWTM at 1-7 MPH.
4. Take the dog for a run – straight only, no turns – for 10 to 15 minutes twice a day.
This protocol is to be used as an outline only—each patient should be individually managed!!!