Digital Thermal Imaging
Digital Thermal Imaging is an extremely valuable tool that can actually allow you to see pain and inflammation in patients. Horses can't tell us where it hurts or if they hurt, but by using this technology we can greatly improve our discovery of pain and injuries. This new technology is non invasive, non destructive, and helps diagnose inflammation and lack of circulation and its exact location in the body.
• DTI will localize unsuspected areas that might not have been uncovered by physical exam;
• Find a faster path to diagnose or localize pathology with more patient data;
• Provide an objective tool that owner's can comprehend in order to pursue further diagnostics or treatment;
• Diagnose stoic cats or pets that are harder to localize pain;
We are proud to offer the latest
technology
at Middletown Animal Hospital:
• Made in US with a FDA 510k medical device clearance;
• Manufacturer has over 20 years experience in IR with devices in NASA, Harvard Medical, John Hopkins, University of Texas, US Air Force, Army, Corp of Engineers, Navy, Penn State, Boeing, School of Aerospace & Mechanical.....to name a few;
• Highest Sensitivity to pick up the smallest change in temperature needed for medical applications;
• High Resolution with 307,200 or 76,800 pixel ratio needed to clearly see subtle differences;
• +/- 1 degree Celsius Accuracy;
• First and only IR tablet ease that allows us to take, store, e-mail, and show the images right in front of the pet's owner.
See Pain in a Different Light!
---
Non invasive, non destructive Digital Thermal Imaging. Helping Dr's & DVM's diagnose inflammation & lack of circulation, & its exact location in the body.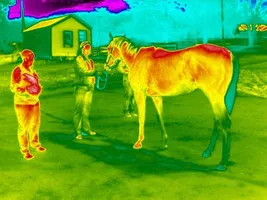 Overview of horse
Left front leg registers a difference of over 20 degrees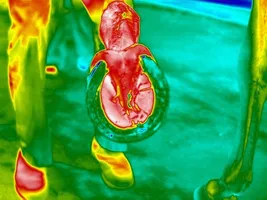 Left front foot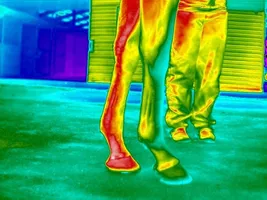 Right front leg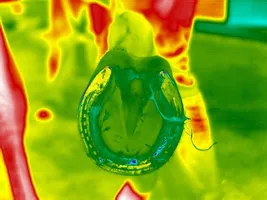 Right front foot
Hind legs
---
In a New York Daily News article, research was conducted to study stress levels of carriage horses using digital thermal imaging. See the links below: